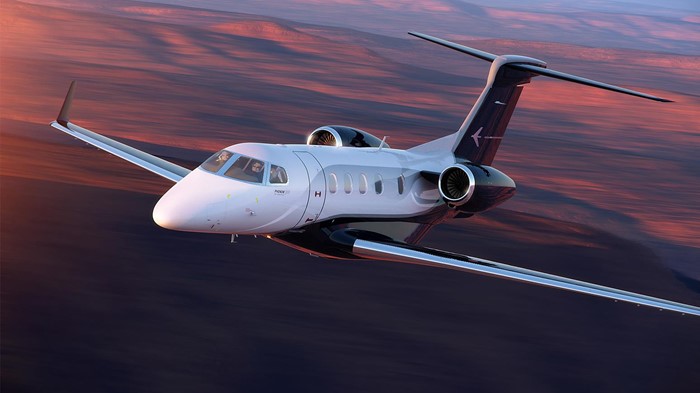 ---
Embraer is making a revision to the Scheduled Maintenance Requirements (SMR) for its Phenom business jet lineup that it says introduces a 33% maintenance-interval improvement, nearly double the industry average. Besides Phenom 100EV and Phenom 300E executive aircraft models, Embraer offers business jet models in Praetor, Legacy, and Lineage families.
"Ideal Operating Conditions"
With the revision, intervals between stops from 600 flight hours and/or 12 months and multiples for Phenom aircraft now move to 800 flight hours or 12 months and multiples, says Embraer, adding that "most of the tasks with double intervals were also optimized to the longest period." Revision-related customer benefits include less downtime, lower maintenance costs, a long economic life, and more airtime, Embraer says.
Embraer based the SMR on the Maintenance Steering Group (MSG-3) methodology, and developed them to meet specific business aviation needs. Primary benefits of the MSG-3 methodology include higher aircraft availability and reduced overall costs to "keep the aircraft in ideal operating conditions."
Find Your Embraer Aircraft
Embraer Services & Support President and CEO Johann C. Bordais notes that the Phenom 100 and 300 series models were built for high usage. "Now, 11 years after the first delivery, with a fleet of over 900 jets in operation, our customer support and engineering team can reaffirm, once again, that our products are even better than the initial specification," he says.
Controller.com is your go-to source for new and used Embraer business jets like Phenom, Legacy, and Lineage aircraft for sale.
Source: Embraer
Posted On: 7/27/2020 5:50:33 PM