---
Fast Rabbit Aviation of Seattle recently became the recipient of the 250th Cessna Citation M2 that Textron Aviation has delivered since launching the light jet in 2013. Fast Rabbit Aviation's owners plan to use their M2 to make West Coast trips. With two Williams International FJ44-1AP-21 engines on board, the seven-passenger M2 has a maximum range of 1,500 nautical miles (2,870 kilometers) and a maximum cruise speed of 404 KTAS (464 mph/748 km/h). Textron has delivered more than 5,000 Citation light jets overall worldwide.
"A Straightforward Transition"
Certified for single-pilot operation, the M2 is equipped with Garmin Aviation's recently updated G3000 avionics, which Cessna owner Textron Aviation says enables piston aircraft operators familiar with the avionics suite to "seamlessly step up to turbine aircraft." Rob Scholl, Textron senior vice president of sales, says, "The M2 enables a straightforward transition for piston and turboprop aircraft pilots ready to step up to jets by utilizing one of the aircraft's greatest assets. The jet's touch-controlled G3000 avionics provide pilots with intuitive control, offering an ideal flight experience."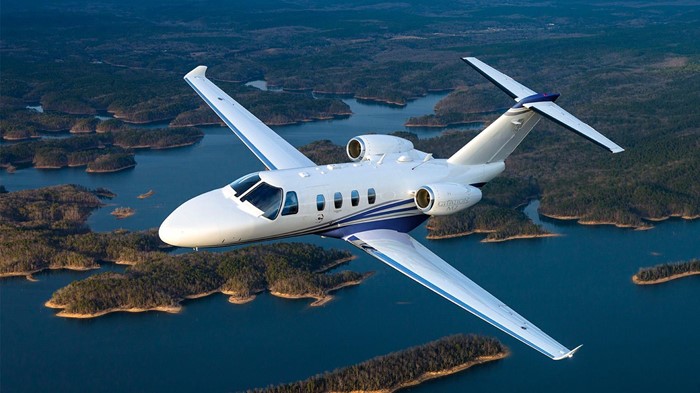 ---
Carrying four passengers, the M2 can travel nonstop from Seattle to Burbank. Textron notes the M2's range and performance where regional travel is concerned provides access to areas where commercial service may be limited. Fast Rabbit Aviation's owners are considering applying the M2's range and agility to help complete a future trip around the world. The jet can operate at airports with runways just 3,210 feet (978 meters) long. It can also climb to 41,000 feet (12,497 meters) in less than 25 minutes. The interior, meanwhile, features eight large windows, adjustable seats, and a main passenger cabin that's 58 inches (1.47 meters) wide, 11 feet (3.4 meters) long, and 57 inches (1.4 meters) tall thanks to a 5-inch (12.7-centimeter) dropped aisle.
Find Your Cessna Citation
Controller.com is the industry's leading source for new and used Cessna aircraft for sale, including Cessna jets like the Citation M2.
Source: Textron Aviation
Posted On: 6/17/2020 4:16:05 PM