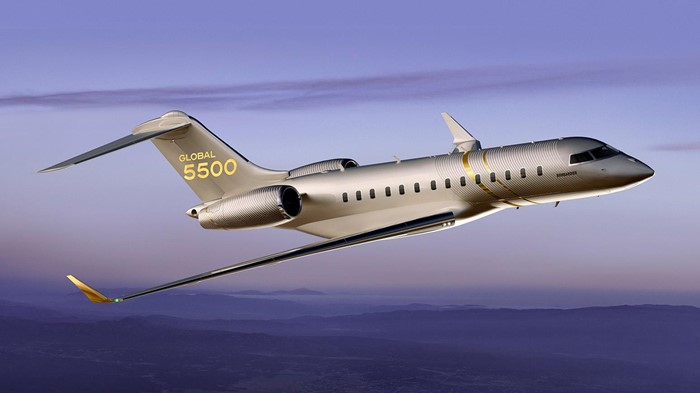 ---
Bombardier has officially entered its Bombardier Global 5500 business jet into service, with Bombardier Aviation President David Coleal dubbing it the "ultimate business tool," and a sign of the "meticulous" type of work the company's employees in Wichita can produce in the face of the coronavirus pandemic.
Talking Range
Bombardier says the Global 5500 offers the longest range, largest cabin, and smoothest ride in its class. The jet's 5,900-nautical-mile (10,927-kilometer) range at Mach 0.85 is 700 nm (1,296.4 km) more than its nearest competitor at the same speed, the manufacturer says, and is sufficient to connect Los Angeles to Moscow nonstop. During development, Bombardier increased the jet's range by 200 nm (370.4 km).
The Global 5500 features the Bombardier Vision flight deck, custom-designed Rolls-Royce Pearl 15 engines, and what Bombardier says is the first 4K-enabled cabin with the "fastest in-flight connectivity." The jet's cabin entertainment suite features 4K/Ultra-HD ability, Ka-band high-speed in-flight internet connectivity, wireless music streaming throughout the cabin, and wireless mobile device control over cabin and entertainment features. The cabin itself features three living areas, the Bombardier Pũr Air air-purification system only available in Global aircraft, and Bombardier's Nuage patented seating, which the company says is "the first new seat architecture in business aviation in 30 years."
Find Your Bombardier Jet
Coleal says the first Global 5500 delivery, which went to an undisclosed customer, is of particular importance to Bombardier's Wichita-based employees who "took on the meticulous work of interior completions" for the 5500 and 6500. Bombardier also manufactures Learjet aircraft, operates a service center, and conducts Flight Test Center and Specialized Aircraft operations in Wichita. Bombardier says all its employees have shown "flexibility and dedication" during the pandemic, and the 5500's successful service entry demonstrates their resilience and efforts.
Controller.com offers for-sale listings for hundreds of new and used jets every day, including a big selection of Bombardier aircraft like the Global 5000 and Global 6000.


Source: Bombardier
Posted On: 6/29/2020 4:31:46 PM