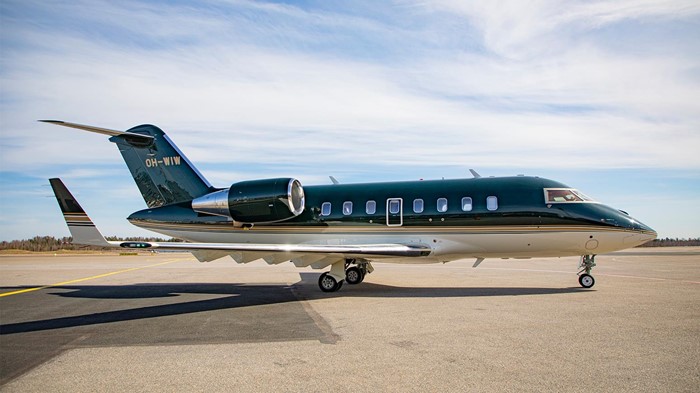 ---
The COVID-19 pandemic has altered many companies' operations and how their products are used—at least temporarily. Business jet manufacturer Bombardier recently provided an example of this. Immediately after delivering a Challenger 650 executive jet in late March to longtime customer Wihuri Group—a Finnish industrial conglomerate that owns charter operator Jetflite—Jetflite adapted the jet's interior to serve as an air ambulance and commenced to repatriate dozens of COVID-19 patients around the world. In doing so, the jet completed its first 100 flight hours in just 14 days.
"Something Of A Record"
Jetflite Managing Director Elina Karjalainen says that while Jetflite's fleet is always busy, completing 100 hours flight time within two weeks "directly out of the factory was something of a record, even for us, particularly in light of the challenges in flight route planning, obtaining diplomatic clearances, and booking risk-free crew accommodation during the spread of COVID-19." The Challenger 650's longest tour saw it executing humanitarian missions across three continents in five days, with stops in Finland, Portugal, Italy, Mali, the Canary Islands, Liberia, South Africa, Afghanistan, and elsewhere.
Jetflite converted the Challenger 650's typical 12- to 16-passenger VIP interior to an air ambulance configuration that includes two stretchers, a portable isolation unit, a supply of personal protective equipment and test kits, and room to transport a medical team. Bombardier Aviation President David Coleal says the Challenger platform's emphasis on reliability and flexibility "is brought into sharper focus when lives are on the line."
Find Your Bombardier Aircraft
Bombardier bills the Challenger 650 as its best-selling large aircraft platform and says it has the quietest and widest cabin (7.92 feet; 2.4 meters) in its class. The jet has a 4,000-nautical-mile (7,408-kilometer) range, a top speed of Mach 0.85, a high cruise speed of Mach 0.82, and a maximum operating altitude of 41,000 feet (12,497 meters).
You'll find an expansive selection of new and used Bombardier Challenger jets for sale on Controller.com every day, including Challenger 650 aircraft.
Source: Bombardier
Posted On: 5/15/2020 10:33:04 AM